TechHive
TechHive helps you find your tech sweet spot. We guide you to products you'll love and show you how to get the most out of them.
The Next Generation in Online Meetings



GoTo Webinar is a new, affordable, do-it-yourself Web event service that doesn't require a consultant. Get $10 off after your complimentary trial.

From our sponsors

Nokia's Android phone interface sports a Windows Phone look
Jan 16th 2014, 22:25, by Florence Ion
It's the rumor that just won't die: Nokia will allegedly produce an Android phone. Whether it'll be geared for emerging market or for Android-loving Windows users is uncertain, but the latest interface mockups from evleaks seem to suggest that whatever version of Android Nokia goes with, it will look a lot like Windows Phone 8.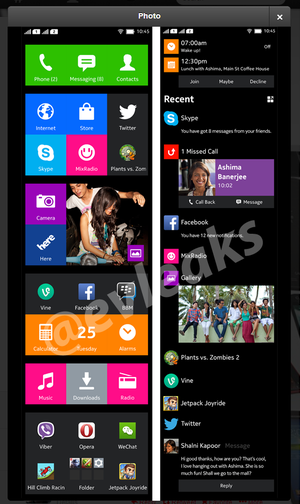 "Normandy" could sport a 4-inch display, a Qualcomm S4 processor, 4GB of storage, and 512MB of RAM, according to The Verge, and it will feature a custom version of Android built directly on top of the exist AOSP code base that other Android forks utilize, according to ZDnet's Mary Jo Foley. The screenshots show a heavily skinned version of Android styled in the Metro interface, similar to the leaks we saw crop up recently. Nothing about it remotely resembles Google's Android.

Why would Nokia release an Android phone, when it's already fashioned a deal-of-a-lifetime with Microsoft? Foley posits that it would help introduce new users to the Windows Phone interface without too much shell shock, or "it could be just one example of a handset that could run either Android or Windows Phone." There's also the possibility that Microsoft wouldn't mind too much about the handset because it would still be making money off of the devices and services—don't forget, Microsoft makes somewhere along the lines of $2 billion on Android licensing.

A while back, reports indicated that Nokia had tried Android on for size, so it's not too farfetched to think that these leaks might just be what could have been. Still, Microsoft and Nokia are doing a lot to push the Windows Phone platform, so taking a step back with an Android phone merely sounds counterintuitive.

To read this article in full or to leave a comment, please click here

Sign up here with your email