TechHive
TechHive helps you find your tech sweet spot. We guide you to products you'll love and show you how to get the most out of them.

How Cyanogen plans to make Android even more open
Jan 14th 2014, 11:30, by Florence Ion
When custom Android ROM maker Cyanogen announced its plans to start a full-fledged company, the announcement was big news for its open-source operating system, CyanogenMod. The tightly-knit group of ten developers who worked hard on creating their own version of a "better Android" finally had a chance to deliver on that promise on a large scale.

On the surface, Cyanogen's story sounds like a typical tale of rags to riches: A small team of hacking and coding enthusiasts work long days and nights, passionately slaving away at their popular, rebranded version of Android, when all of sudden a few gracious investors appear out of nowhere and throw $7 million of funding its way.

Even with the funding, Cyanogen has a long way to go before it can be considered a major mobile platform. For now, it's focusing on key efforts, such as getting a phone preloaded with its software into the hands of consumers. It hopes that the goal of making Android more adaptive and useful will resonate with phone buyers. 
From free to funded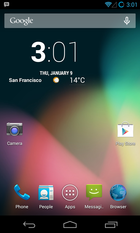 Sign up here with your email