TechHive
TechHive helps you find your tech sweet spot. We guide you to products you'll love and show you how to get the most out of them.
Helpdesk Ticketing System



Award-winning helpdesk system with an inbuilt KBase, forums, canned responses & more. Try super user friendly Freshdesk today. (In 2 minutes, You'll set it up!)

From our sponsors
Corsair unveils USB stick to back up smartphone, tablet
Jan 12th 2014, 18:08, by John E Dunn, Techworld.com
Corsair has become the latest storage vendor to offer smartphone and tablet users a flash stick that can be plugged straight into their devices using the USB On-The-Go (OTG) standard.

Available in 16GB, 32GB and 64GB, the Flash Voyager Go USB 3.0 is a way for mobile owners to beat the fact that an increasing number of devices come without an external Micro SD card slot for backup or offline storage.

USB OTG has been around for a while but it is only recently that flash drive vendors have started supporting it in the most convenient way of integrating both micro-USB Type A or B connectors (for mobile devices) with a standard USB 2.0/3.0 connector for a PC. Previously, users had to hitch a drive up using a USB-to-micro USB converter cable.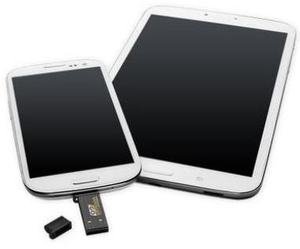 Along with the OS (Android, iOS, but not yet Windows Phone), the mobile device also has to support the USB OTG standard; a few now do (for instance some Samsung handsets and Google's Nexus 5), but a surprising number of relatively recent devices don't (stand up Google's Nexus 4). A full list of compatible devices can be found here.

To read this article in full or to leave a comment, please click here

Sign up here with your email