TechHive
TechHive helps you find your tech sweet spot. We guide you to products you'll love and show you how to get the most out of them.

AMD ships Kaveri, seeks apps partners for even more improvements
Jan 14th 2014, 21:50, by Mark Hachman
Advanced Micro Devices officially began shipping its Kaveri chip architecture on Tuesday, claiming better price and performance than the Intel Core i5 chips released in the middle of 2013. And if you use AMD's optimized APIs, company executives said, then they'll do even better.

Late last year, AMD announced that the Kaveri would ship in January. And at last week's Consumer Electronics Show, AMD executives revealed that the new architecture, which integrates graphics and computing capabilities, would no longer distinguish between the two. Instead, AMD said that the more powerful version of the desktop Kaveri chip would contain 12 "compute cores," consisting of a 8 GPU cores and 4 CPU cores.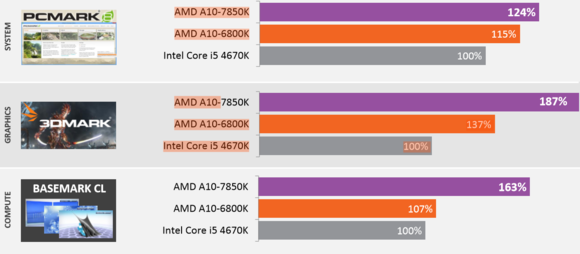 On Tuesday, AMD revealed the final details, including that it had priced both the new 3.7GHz A10-7850K and the 3.4GHz A10-7700K for less than $200—$173 and $153, specifically. (Click on the graphic above for more details.)

A third, lower-power variant, the 3.1GHz and 3.3GHz A8-7600, will ship later in the first quarter for about $119. Those prices are roughly equal to the Core i5 chips that Intel released in the second quarter of 2013, meaning that Intel is expected to leapfrog AMD yet again when it introduces its delayed "Broadwell" architecture later this year. 

To read this article in full or to leave a comment, please click here

Sign up here with your email